Shannon Amos, the daughter of American actor John Amos has spoken out after his brother K.C. Amos' was arrested for sending her death threats.
In a statement to People that was shared on Thursday, she said she was 'pleased' that her brother Kelly 'K.C.' Christopher, 52, had been 'held accountable' after he was arrested last weekend.
Shannon, 56, claimed that K.C. had sent her a series of disturbing text messages that made her feel as if her life was in danger, including a video of him allegedly firing a gun in an open field.
The escalating family conflict comes after her father John, who has continued to make film and television appearances accused Shannon of 'elderly abuse.'
'My family and I continue to advocate and fight for the proper care of my father,' Shannon said in her statement. 'I am pleased that Kelly is being held accountable for his actions which have put my father's health at risk, and look forward to resolving this matter in private with the proper authorities.'
She continued: 'Despite false accusations and defamatory statements being made against me, I remain committed to ensuring that he receives the best medical care. John Amos may be known as "America's Dad," but for me, he is my father.'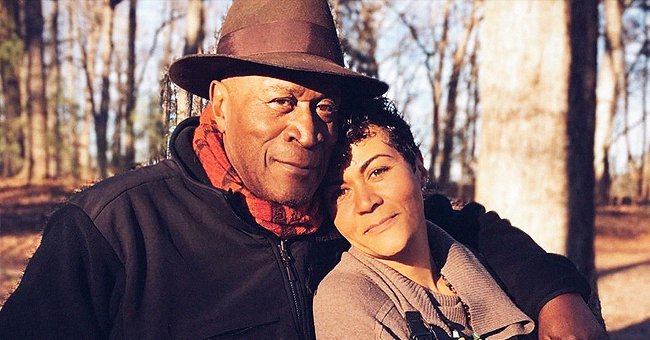 A representative for Shannon, who is a film producer, clarified that the shattered relationship between her and K.C. was 'not a sibling rivalry.'
The rep also called into question Amos' previous accusation of elder abuse against his daughter.
'The family and Shannon are all working together to get John the care he needs,' they continued, adding, 'In fact, he actually told Shannon's daughter that he did not recall any of the statements he previously made regarding this issue.'
The 83-year-old Good Times actor's son K.C. was taken into custody last weekend after Shannon reported that his set of text messages which reportedly included a videotape of him firing a gun in an open field made her feel as if her life was in danger.
The daughter of the actor said her brother sent her texts about his alleged connections to various gangs and also showed off several firearms while sending his slew of messages.
Shannon also claimed that K.C. sent her a video showing him firing a pistol in a field and sent her a message reading, 'Gonna sleep much better tonight big sis.'
She has since sent her brother a cease and desist letter, which was issued in response to his various online statements about her, and she claims he 'no longer has authority to make medical decisions for their father John.'
According to Essex County Prosecutor's Office spokesperson Robert Florida, Shannon stated that K.C. was diagnosed with bipolar disorder in the past.
She also expressed that her brother believes she hired a hit man to kill him and fears that her sibling may act on his suspicions according to documents obtained by TMZ.
Share this story to friends